CYTOFLAVIN® solution for intravenous use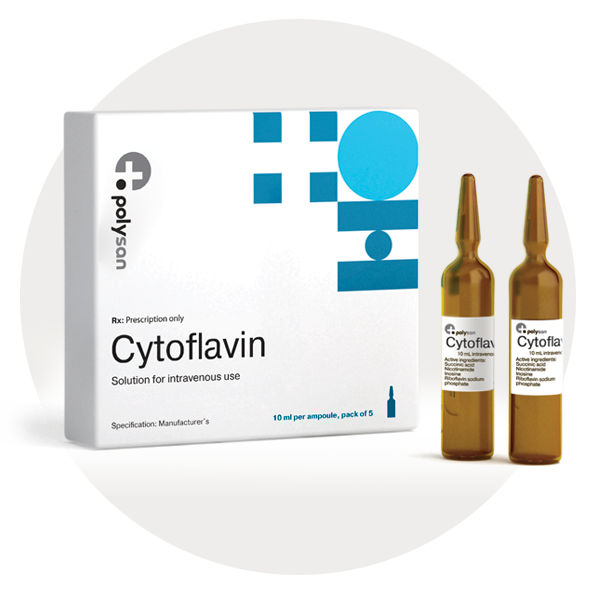 Cytoflavin is a metabolic agent. All Cytoflavin ingredients are natural body metabolites and stimulate tissue respiration.
Brand name:CYTOFLAVIN®
Dosage form:solution for intravenous use.
Therapeutic category:metabolic regulator.
CYTOFLAVIN® possesses anti-hypoxic activity, stimulating energy production in the cells; reduces free radical generation, and restores antioxidant enzyme activities.
Pharmacological effects of CYTOFLAVIN® are governed by the combined action of the ingredients, constituting it.
CYTOFLAVIN® improves coronary and cerebral blood flow; activates metabolic processes in central nervous system; promotes recovery of consciousness, reflex alterations, and paresthesia; improves intellectual and mental functions. It also greatly reduces postanesthetic arousal time in postanesthetic clouding of consciousness.
Administration of CYTOFLAVIN® within 12 hours after onset of cerebral stroke has beneficial effect on ischemic and necrotic lesions (diminution of lesion focus), normalizes neurologic status and significantly reduces the rate of disability in a long-term perspective.
Inquiry of instruction
Intermarket@polysan.ru
THE CHOICE OF MEDICATION AND DRUG USE SUPERVISION CAN BE EXERCISED ONLY BY A DOCTOR WHO WILL ALWAYS CONSIDER PATIENT'S PERSONAL FACTORS.